TidesPro App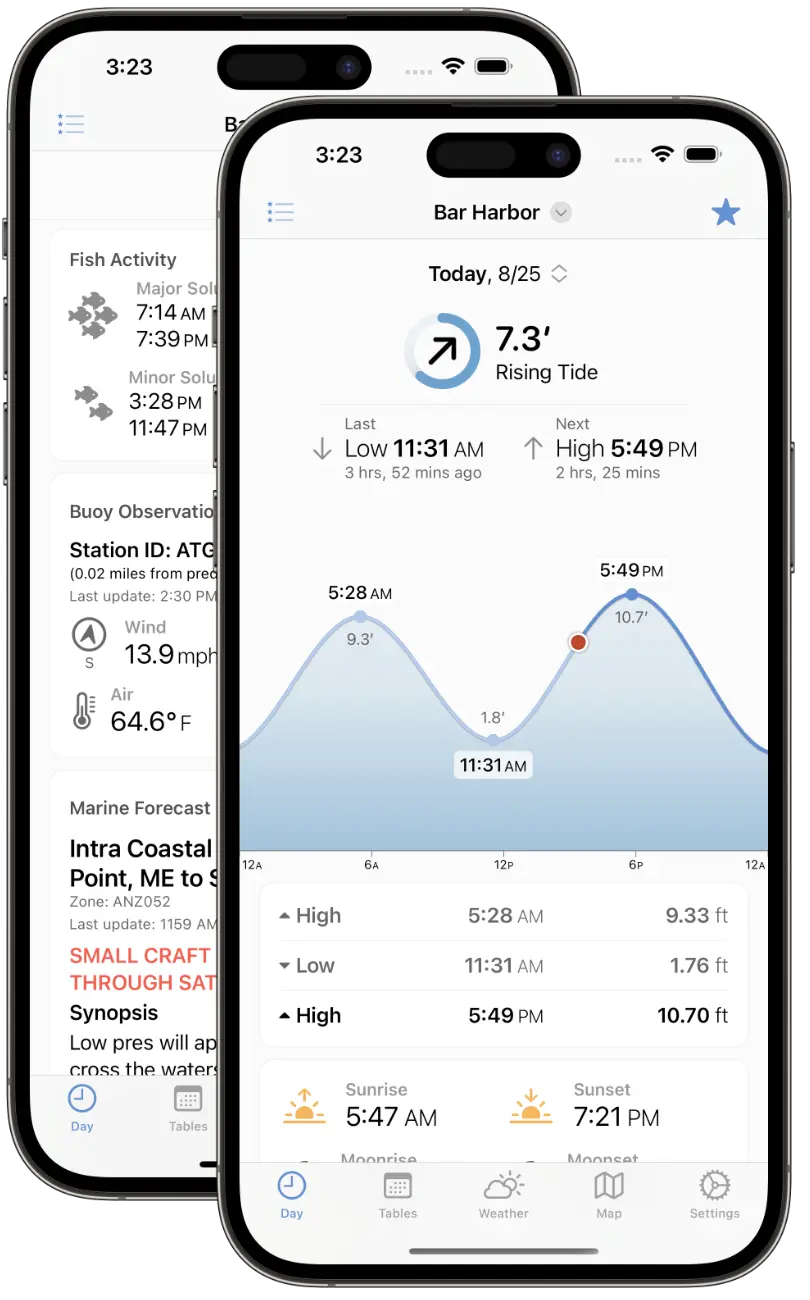 In addition to our website, we also have an app for your iPhone, iPad, or Apple Watch to keep track of tides and weather from your mobile device.
The TidesPro app is a powerful tides and marine weather app that's also privacy conscious. Get the latest tide predictions, whether you're fishing, going to the beach, boating, kayaking, surfing, or planning a trip. See accurate tides for the current day, or monthly in the future, as well as on-shore weather, NOAA marine forecasts, and buoy observations at the tide station. TidesPro also provides comprehensive solutions for you to access tides, including home screen widgets (themeable!), lock screen widgets, and Apple Watch complications.
Note: TidesPro requires an internet connection and provides predictions for the United States and territories only.
Features
Local Tides - Quickly access current tides predictions for your area with the current height alongside quick tide charts, tide tables, and sun & moon times.
Favorites - Conveniently track tides in locations you care about most
Maps - Find tide prediction locations on an interactive map
Future Monthly Predictions - Planning a trip? See what the tides and solunar periods look like in the future with tide tables, month by month.
Widgets - See tide predictions or tides & solunar predictions for your nearest or favorite locations right on your home screen (themeable!) or from your lock screen. (*Premium required)
watchOS & Complications - See predictions on your wrist in our app or on the watch face with complications. (*Premium required for complications; watch app free to use)
On-shore weather forecasts
NOAA Marine Forecasts for most locations (*Premium required) [Some locations that are very remote or far up rivers are not in marine forecast zones, and do not have marine forecasts]
NOAA Buoy Observations for many locations (Observation types vary, and not all locations are near a buoy.)
Customize the home screen to show NOAA Marine Forecasts and NOAA Buoy Observations next to Tides. (*Premium required)
Dark Mode!
Who is this app for?
The app provides information about tide predictions and marine weather for many types of people, whether you're fishing, going to the beach, boating, kayaking, surfing, or planning a trip.
Origin of the app
We created the app because we're avid fishermen and boaters, and wanted an easy to use tides and fishing times app to help give us an edge in fishing and help us figure out where to fish at a particular time, given the tides.
Pricing
TidesPro is free, but the free version shows ads for our Premium service and is missing some features. TidesPro Premium removes the ads, unlocks widgets, complications, marine forecasts, favorites predictions in one place, and supports ongoing development of the app.
TidesPro Premium is currently priced at $1.99/month or $11.99/year. Our premium service has a 1 week free trial, so you can try it out. We also offer a one-time purchase, or lifetime unlock, of TidesPro Premium for $39.99 (note that the one-time option does not have a 1 week free trial offer).
Privacy
We also respect your privacy -- see below for a list of data we access. Feel free to check out our app using the App Privacy Report on your iPhone/iPad vs. the actual usage of other apps.
App Privacy Report Info
You can use your App Privacy Report (you can turn this on in your iPhone/iPad's Settings > Privacy > App Privacy Report) to take a look at the data and services TidesPro accesses (and check us out vs. other apps). Here are some details about what we access:
Data & Sensor Access
Location: We use location to show predictions and weather near you (if you've given the app permission to access your location).
App Network Activity
tidespro.com: This is our own domain, and it runs our APIs that provide tide and astronomical predictions as well as marine weather data that is aggregated from sources such as NOAA.
marineweatherpro.com: This is also one of our domains that runs additional Marine Weather APIs.
weather.gov: This is the National Weather Service. We use them as our primary source of on-shore weather forecasts.
apple.com: Apple hosts our app, and TidesPro Premium subscriptions work as in-app purchases through Apple's App Store. We also use Apple's WeatherKit as a backup for our on-shore weather forecasts.
lencr.org: This is Let's Encrypt. We use them for HTTPS (SSL/TLS) certificates that are used to encrypt any communication with our servers.
Contact
Press Kit Images & Screenshots
Download Press Kit Media

If you need any additional screenshots/etc., please feel free to let us know at contact@tidespro.com
Legal